West End dining destination, Tredwells, is celebrity chef Marcus Wareing's newest restaurant.  Marcus Wareing frequents Masterchef as a judge and also owns The Gilbert Scott at the St Pancras Renaissance Hotel and Marcus in Knightsbridge, which has earned a two Michelin-starred rating.
Located in the trendy Seven Dials area of Covent Garden, Tredwells is something a bit different from his other restaurants.  The Tredwells menu features modern London cooking combined with British produce.   The dishes are centred around a sharing concept and a more casual dining atmosphere.
Starters: fish cake, confit egg, capers and herb mayonnaise.  Robata grill salad with ricotta, pomegranate and mint.
Cocktail: Down the Apples and Pears.  The waiter recommended the Down the Apples and Pears cocktail which was a perfect palette cleanser to kick off the lunch.  It was a refreshing and delicately sweet tipple containing Belvedere Vodka, elderflower, thyme and of course apple and pear, as its cockney rhyming slang name suggests.
Mains: Roast corn-fed chicken, leg croquette, rainbow chard, morels and thyme.  Sea bass, carrots, lentils & crispy shallots.
Puddings: Coconut mousse, pineapple, mint, lime.  Pain perdu, yuzu cream ice, banana.
White: 2012 Torrontes Selection, Terrazas de los Andes, Argentina.
The staff were ultra-friendly and were on hand to offer some great recommendations from the menu.  I had to rush through lunch as I had another commitment to get to – thankfully the service was swift and efficient and couldn't be faulted.  In fact, they even have an Express Menu for those who are running on a particularly strict schedule, making it a great place to go for business lunches or for those who are booked in to see a West End show. 
The food at Tredwells was delicious, satisfying and attractive – it's a great place to go if you are looking for fail-safe good food.  On its website, Tredwells is described as "accessible and relaxed" and I certainly feel that it achieves this.  I enjoyed my lunch at Tredwell's and would certainly visit again to try its promising-looking breakfast menu.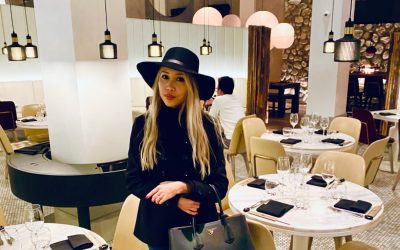 We have discovered lots of new favourites in our attempt to explore more of Manchester's restaurant scene and Peter Street Kitchen is a new addition to the list.  Peter Street Kitchen is somewhere that had slipped under my radar which we happened across when browsing...