Having lived up North (many moons ago), over the years I have been lucky enough to get a taste of what the region has to offer in the culinary department. Whether you are fortunate enough to call the North your home or are simply planning a trip there in the future, I thought it would be useful to share a roundup of my favourite dining and nightlife spots.
20 Stories
Rooftop restaurant and bar, 20 Stories, is located in the heart of Spinningfields, Manchester's up-market financial district. 20 Stories sits on the 19th floor of No 1 Spinningfields, providing 360 degree, panoramic views of Manchester. The unparalleled views make it the sort of place to go to celebrate a special occasion, be it for a meal or drinks. The dishes are made from locally sourced produce and I love how elements of Manchester's heritage have been incorporated into the menu. It's a thoughtful touch and makes the dining experience at 20 Stories all the more unique.
The Refuge
Located at the Kimpton Clocktower Hotel, The Refuge has got to my all-time favourite destination to go to for a hearty Sunday roast (especially if you're veggie). The Refuge is an undeniably cool drinking and dining hangout. I especially love the indoor Winter Garden area, which is the perfect social setting to enjoy drinks with friends.

Adam Reid at The French
Ensconced within the Midland Hotel, The French is my overall favourite restaurant in Manchester. The French is headed up by renowned local chef, Adam Reid, who has a number of Michelin-starred restaurants in his repertoire, including Simon Radley at The Chester Grosvenor. With its period features and looming chandeliers, the Grade II listed dining space creates an intimate and opulent atmosphere. The menu consists of "modern British" dishes that utilise seasonal ingredients. In my experience the food is immaculate.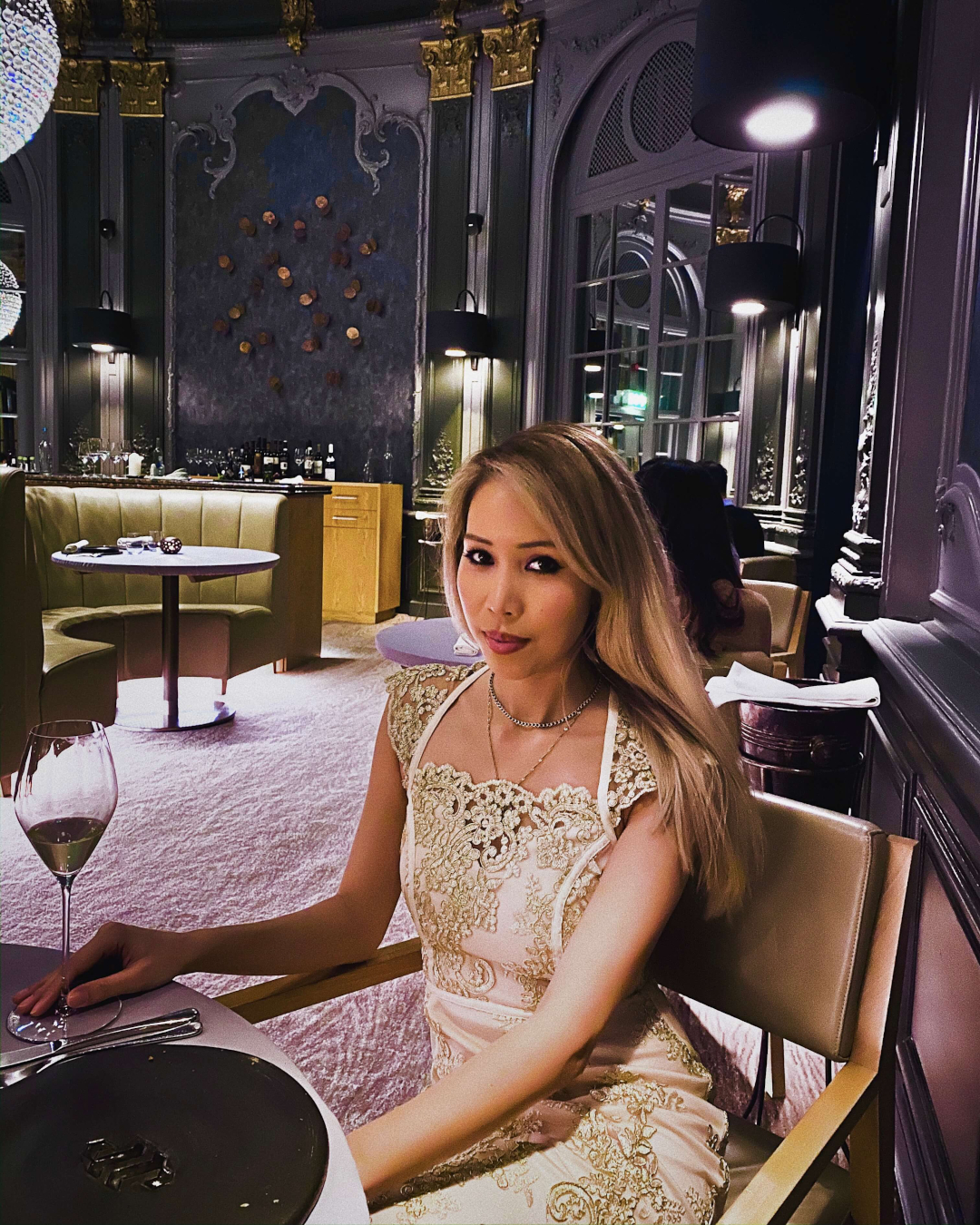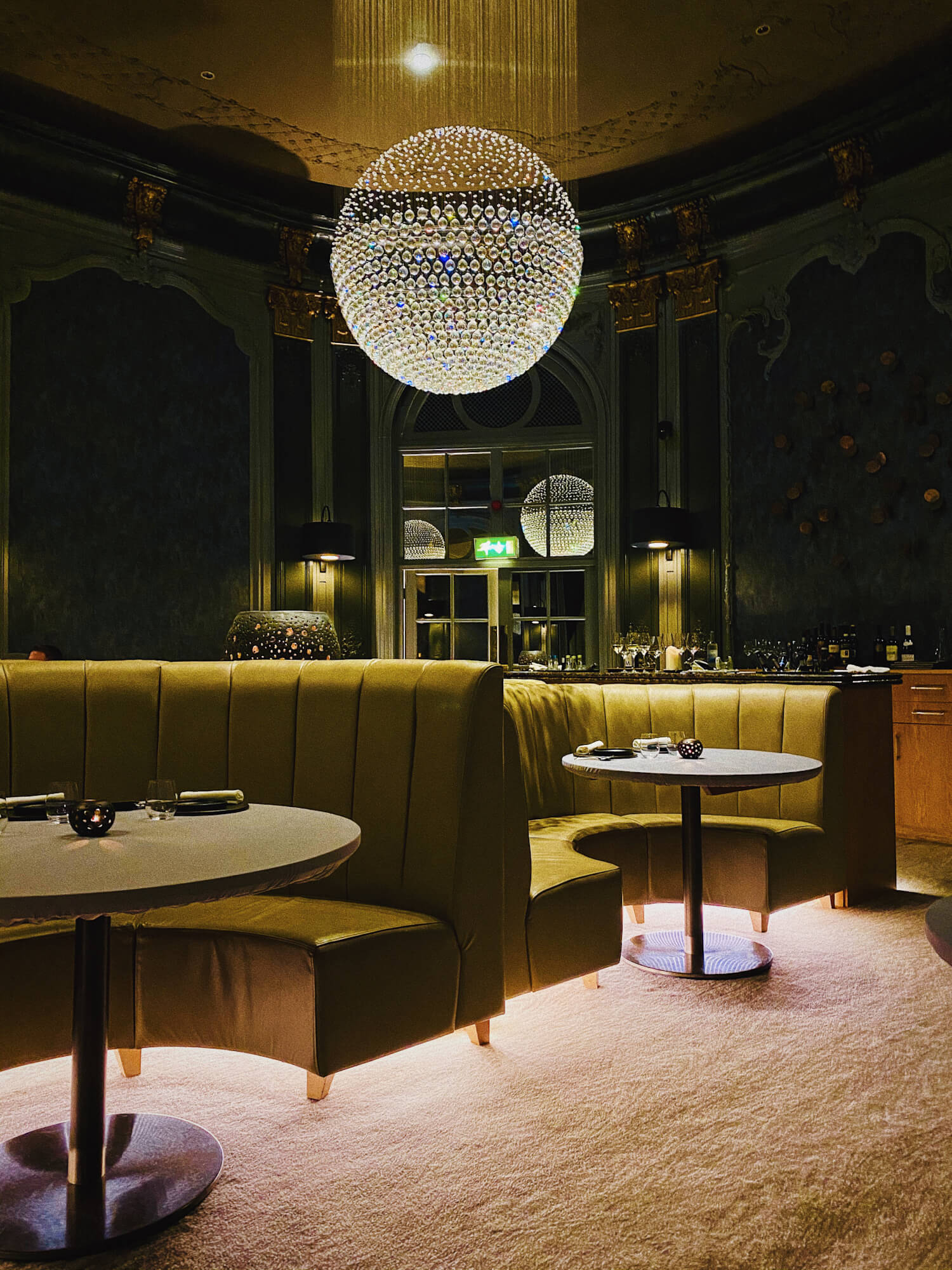 Tattu
Located in the heart of Spinningfields, Tattu serves up contemporary Chinese cuisine and oriental-inspired cocktails in an award-winning immersive dining setting. As a result of its popularity, Tattu has since opened restaurants in cities across the country, including Leeds, Birmingham and Edinburgh. What's more, the mood lighting and looming magenta cherry blossom trees make it an ultra-Instagrammable dining destination.

San Carlo Cicchetti
San Carlo Cicchetti is my go-to place for breakfast or brunch in Manchester. This sophisticated, marble-adorned setting serves up the Venetian culinary custom of Cicchetti, comprising small plates that are perfect for sharing. I love the fact that it's usually not too busy if you get in early doors on the weekend, making it a wonderful morning-after-the-night-before hangout where you can grab a delightful bite and some proper coffee in a peaceful, elevated setting. What's not to love?
Peter St Kitchen
Expect "contemporary Japanese and Mexican shared dining" at Peter St Kitchen at the Edwardian Hotel. I adore the unique fusion concept so this place is perfect if you fancy something a bit different. It wasn't hard to see why Peter St Kitchen was named as '2019's 'Best Luxury Restaurant in the UK' at the British Restaurant Awards. The stylish restaurant space brings a fusion of modern oriental vibes to the fore, and don't be surprised if you see a Love Island cast member being papped emerging from this increasingly-popular venue.
Cloud 23
If you've got something to celebrate then Cloud 23 cocktail and champagne bar is the place to do it. Located on the 23rd floor of Manchester's iconic Beetham Tower, you can expect sprawling views of Manchester and beyond as you enjoy your tipple of choice. There's also afternoon tea available if you fancy something sweet.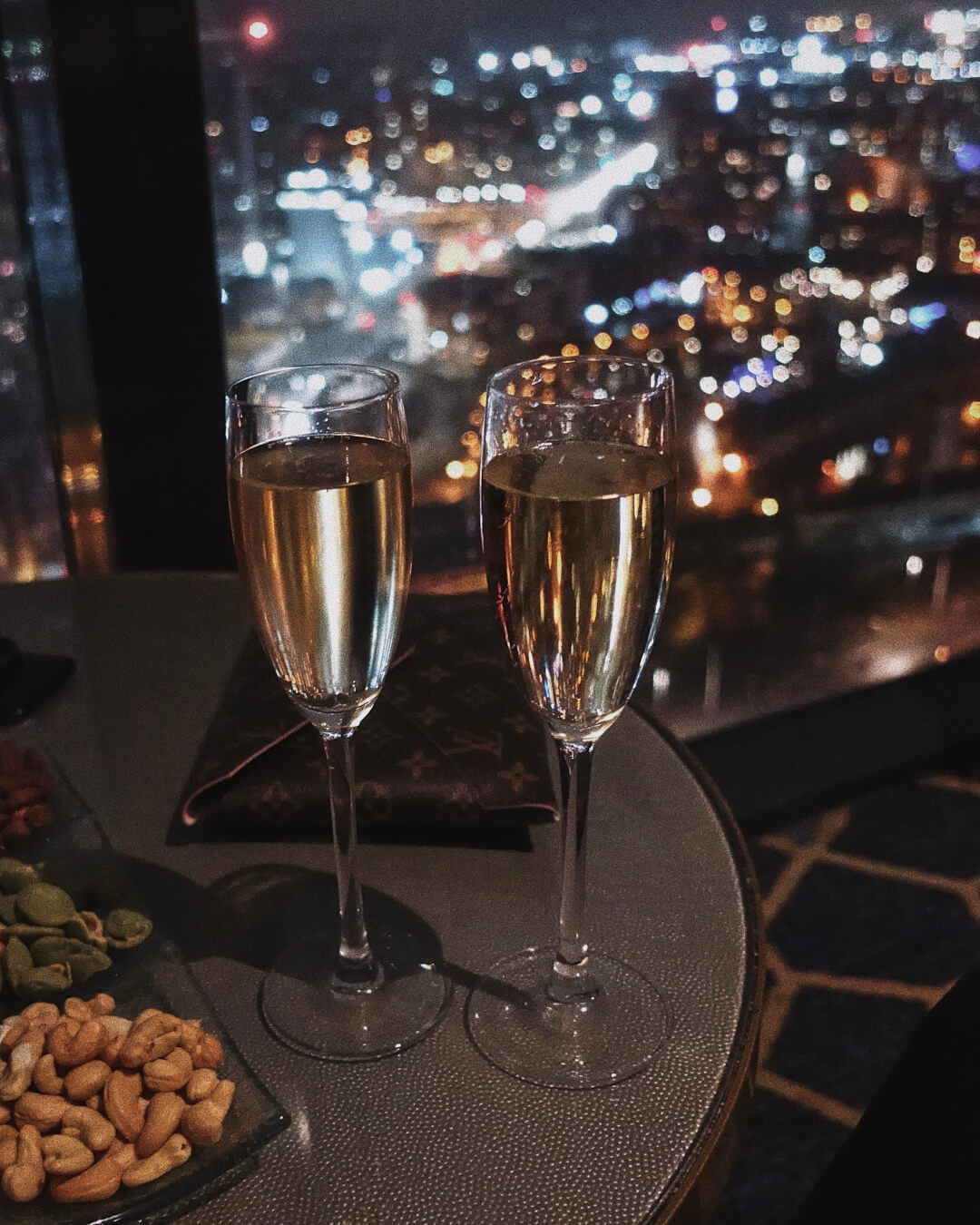 The Ivy & The Ivy Asia
With restaurants across the country, I've found that you can't really go wrong with The Ivy. The food is always wonderful, the decor reliably stylish and the service is generally as you'd expect it to be. I particularly love The Ivy Asia, located on the level above The Ivy, in Spinningfields. This place definitely deserves 10/10 for its incredible interior design, I mean just look at the illuminated floor. Expect a fantastic selection of sushi rolls, sashimi and much more.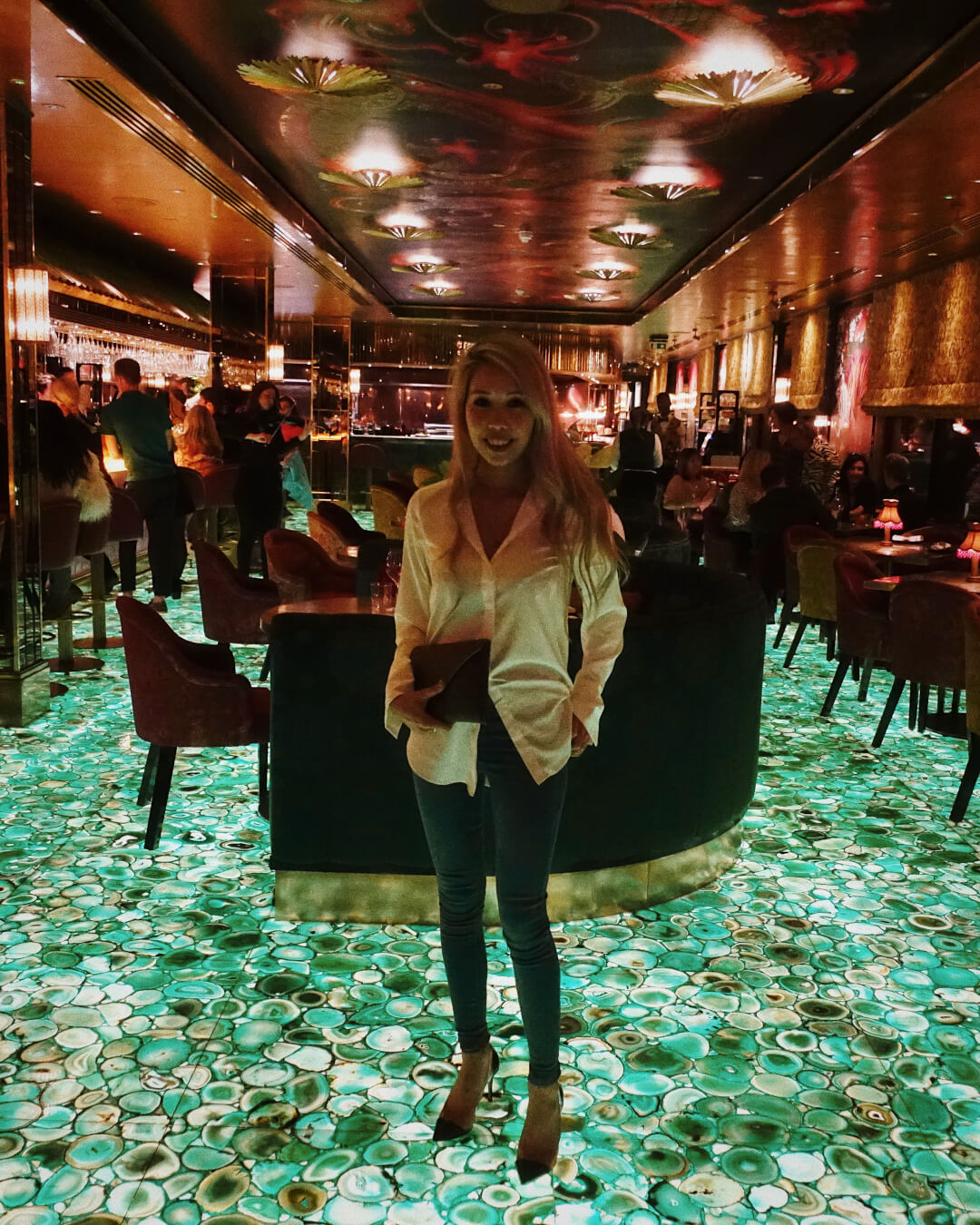 Rosso
When it comes to celeb spotting, Rio Ferdinand's Rosso Italian restaurant is a real hotspot. Situated in a stunning Grade II listed building with period features, Rosso is the perfect Italian date night spot. The menu is inspired by traditional Southern Italian cuisine, with the likes of antipasto, pasta and of course some pretty great pizza on offer. That's not to mention the extensive Italian wine list. I'm definitely overdue for another visit.
Upstairs at the Grill
Upstairs at the Grill is a new Chester favourite of mine that I discovered during my recent trip up North. In fact, it's so good that I was happy to dine there for two nights on the trot. Inspired by a New York steakhouse, Upstairs at the Grill has an intimate and elevated dining space. Drinks can be enjoyed at the bar upstairs before you head down to the dining area for your meal. If you're into your wine and steaks, this is the place to go in Chester.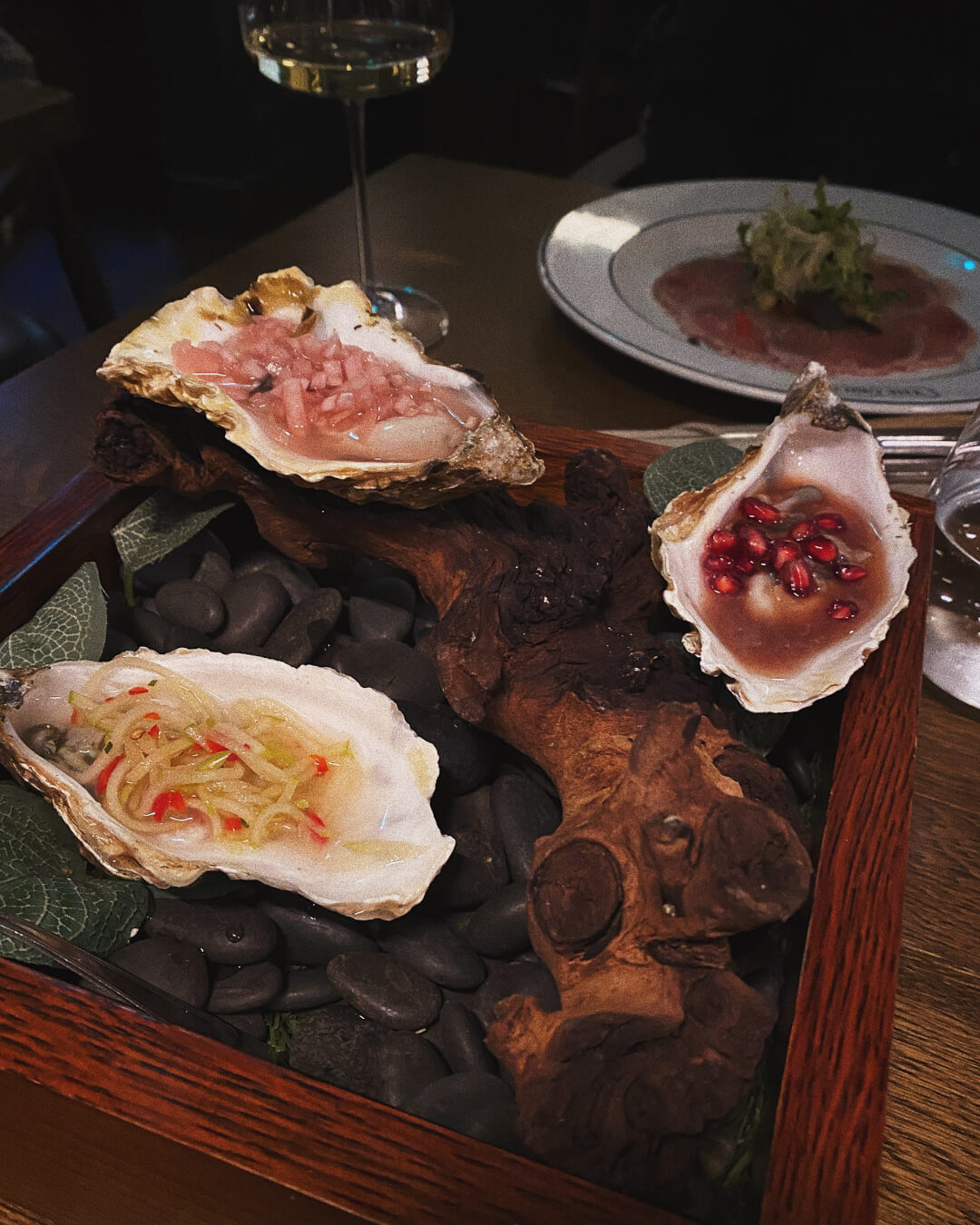 Mowgli
Mowgli is an old favourite of mine. With restaurants across the North (and now across the whole of the UK), it's a place that I have dined at many times over the years. Expect Indian cuisine served up in tiffins (small metal trays) perfect for sharing. I recently dined at Mowgli at Cheshire Oaks and was excited to see that they had tables with swings. Can we normalise this in more restaurants, please?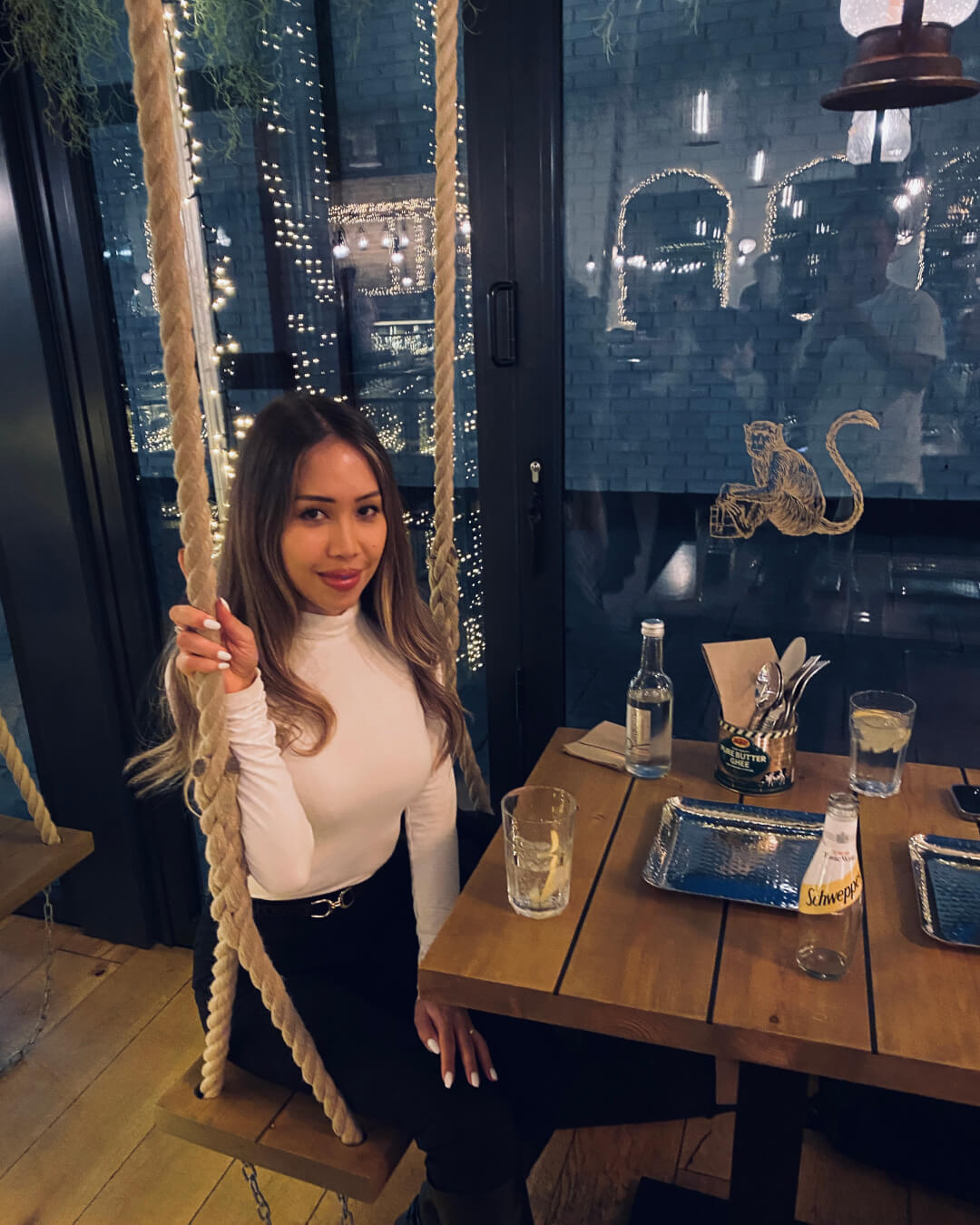 The Opera Grill
If live music is your bag then The Opera Grill is the place for you in Chester. The vast, multi-level dining space is stylish and elevated with industrial accents. On the menu are classic seasonal dishes prepared on charcoal grills and wood burning ovens. There is also the Music Gallery where you can listen to live music with live acts, along with soulful classics performed by the gospel choir. While you are there, don't forget to get an obligatory Insta snap in front of The Opera Grill's stunning neoclassical Greek façade (I'm guilty as charged).
Shrub
For some plant-based bites, Shrub is the destination to go in Chester. This place also serves up some stunning views of Chester's historic buildings from its open-air terrace. What's more, there are also some great deals throughout the week too.
LEAF
LEAF is my all-time favourite brunch spot in Liverpool. Situated on the vibrant Bold Street, LEAF's open, social space is the perfect hangout, regardless of the time of day. LEAF's ethos is "where there's tea, there's hope", so if you love a good cuppa, you'll have come to the right place. There are 60 of its own quality loose leaf teas on offer – Autumn Fire is a favourite of mine. If you have a sweet tooth then don't miss out on Pudding Club too.
The London Carriage Works
With 2 AA Rosettes, The London Carriage Works at the Hope Street Hotel serves up modern British cuisine made from locally sourced, seasonal ingredients. There are also some fantastic gluten-free and vegan options available too. Aptly named, The London Carriage Works was once formerly the warehouse of a coach and carriage builders.
Panoramic 34
Though I have yet to dine at Panoramic 34 (it is definitely on the list) I have been for drinks a couple of times. Located at the top of the West Tower, is it the place to go in Liverpool for the best views of the city on high. It's the perfect special occasion destination for drinks, a meal or afternoon tea. Panoramic 34 is one of the UK's highest restaurants – you can spot some of Liverpool's most iconic landmarks, such as: the Liver Building, the Anglican Cathedral and the Metropolitan Cathedral.
All too soon, the summer 23 chapter has come to a close. Despite a gasp of late sunshine a few weeks back, I am sure we all feel as though we didn't really get a proper summer this year. Now that autumn is upon us and with the feeling of transition into a new season,...