Cornwall is famed for many things. Beautiful beaches, outstanding natural beauty, not to mention its fascinating heritage and history. However, if there's one thing that has really helped to put it well and truly on the map, it's Cornish cuisine.
With farming and fishing being two of Cornwall's biggest industries, Cornish food utilises the high quality, fresh produce that is readily available.
What's more, the appetite for Cornish cuisine has gone global. I've spotted Cornish food all across the world on my travels, from being served a cream tea on a flight to Dubai (complete with Rodda's clotted cream, naturally) to spotting Cornish pasty shops all the way over in Canada.
For a real taste of Cornwall, these top ten tasty offerings are not to be missed.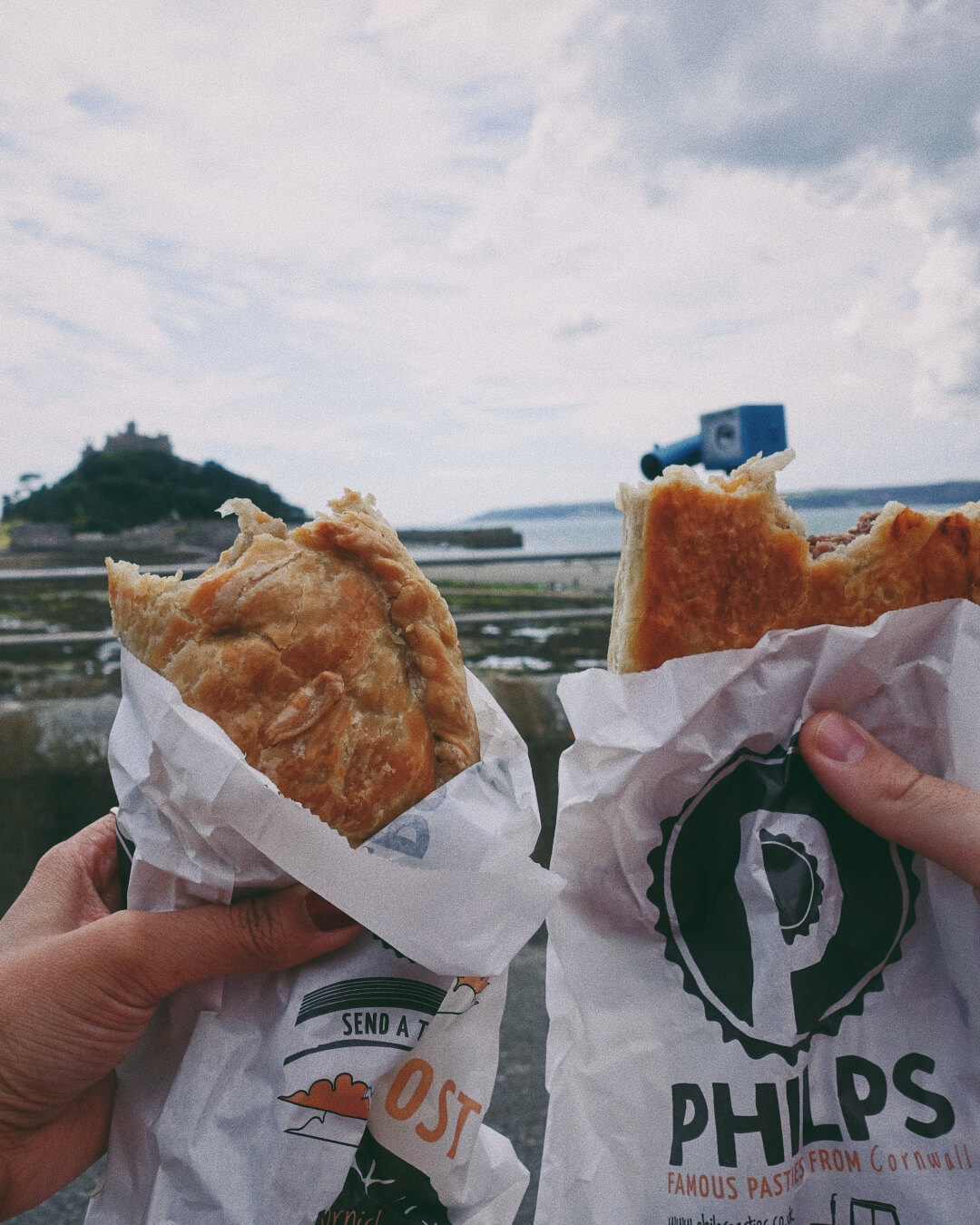 1. Cornish Pasty. There is nothing more quintessentially Cornish than the humble pasty. Pasties represent a huge part of Cornish heritage and date back hundreds of years to when Cornwall was at its mining prime. They were consumed by miners who would grasp their pasties by the crimped 'handle' before tossing the remnants down the mine to bring good luck. The much-coveted pasty has EU protected status, meaning it's against the law to pass something off as a 'Cornish pasty' if it has not been made to traditional specifications, within Cornish borders. Pasties are traditionally made with steak, potato, swede and seasoned with pepper. These days you can also get pasties in an array of flavours and variations, including curry pasties, sweet pasties, vegan pasties, you name it. There's a pasty for everyone!
2. Fish and Chips. Fish and chips is one of the nation's best-loved dishes and what better place to enjoy this glistening, golden delight than by the seaside? In Cornwall, it's very likely that your fish will be unbeatable fresh and may well have been caught just hours before. Just watch out for the notoriously pesky seagulls, who will swipe your food at any given chance (I'm talking bitterly from experience here).
3. Cream Teas. There has been a long-running dispute about whether the cream tea originated in Cornwall or its neighbouring county, Devon. The fundamental difference between a Cornish and Devonshire cream tea is the way in which it's prepared. The Cornish method is to spread on the jam first, followed by liberal amounts of clotted cream and vice versa for Devon. Ideally (in my humble opinion), they are served with Rodda's Cornish clotted cream, which has a distinctive golden crust that is oh-so-satisfying to delve into. Along with many other Cornish products, Rodda's Cornish clotted cream has become one of the UK's most popular cream brands and is readily available across the country.
4. Cornish Yarg. Characterised by its subtle, salty flavour and distinctive nettle exterior, Cornish Yarg is one of the county's best-loved cheese offerings. You won't find a cheeseboard in Cornwall without it. Apart from a handful of artisan cheese stockists, it's pretty hard to get hold of outside of Cornwall, so I urge you to indulge yourself when visiting. I love to have it in a spelt bread sandwich with lots of peppery salad.
5. Stargazy Pie. What has several heads and a fascinating tale? The answer to that is 'stargazy pie', a peculiar dish from the small Cornish fishing village of Mousehole. The legend behind this pilchard pie honours a heroic fisherman named Tom Bawcock, who bravely sailed out into rough waters when the village was severely short of food. He returned yielding fish which was baked into a pie and shared amongst the locals. These days, there aren't many places that serve stargazy pie, however every year on Tom Bawcock's Eve (23rd of December) the Ship Inn in Mousehole cooks up a huge one for all to enjoy.
6. Cornish Fudge. This is one for those with a sweet tooth. Cornish fudge is devilishly moreish and makes for a perfect gift to bring back for loved ones. There are a plethora of Cornish producers that make artisan fudges, so you will be spoilt for choice.
7. Cornish ice cream. Cornwall has a prominent dairy industry due to its abundance of rolling green fields. One of the best-loved dairy products that Cornwall produces is ice cream. Some of the popular Cornish ice cream companies include Roskillys, Kelly's and Callestick Farm.
8. Cornish Ale. Although Cornish Ale doesn't qualify as food, it sure warrants a mention regardless. Cornwall has a plethora of local breweries, so if you are partial to a pint of ale you will be spoilt for choice. Some of the most popular ales include Doom Bar, Tribute and Betty Stogs. Sitting in a cosy Cornish pub and sipping on a pint of local brew will have you feeling like a local in no time.
9. Cornish Seafood. Cornwall is almost entirely surrounded by sea and so it has a huge fishing industry. As a result of its clean waters, the quality of the fish makes it some of the best to be had in the country. Ultra-fresh fish can be brought from local markets or haggled directly from the fishermen at the quayside. There is no shortage of seafood restaurants in Cornwall, including Rick Stein's restaurant in Padstow and Michelin-starred restaurant, Driftwood, in Rosevine. What's more, you can get hands-on with catching your own dinner by taking a fishing trip.
10. Cornish Meadery. Stepping into a meadery is like stepping back in time. They are medieval style eateries that serve mead, a traditional Cornish wine made from honey. The food is simple and traditional and it's one of the few places where it's perfectly acceptable to eat your rustic chicken and chips with your hands if you wish to. Just like they would have done back in the day.
Cornwall is one of the UK's top destinations for great food, so if you are someone who considers it to be an integral part of your travels, it's a place that certainly won't disappoint. Expect high quality, hearty food that is as fresh as it gets. Forget the beautiful beaches and rolling countryside, the food alone makes Cornwall well worth a visit.
In the blink of an eye, a few months have passed since I last wrote and it's safe to say that I'm out of the routine of writing once again. So I'd make my return by sharing some snaps and recommendations from a recent long weekend in the Cotswolds. From the...