It was recently my birthday and to celebrate we went for dinner at The French at the Midland Hotel in Manchester.  It's a restaurant that I'd been wanting to go to for some time.  Renowned Manchester chef, Adam Reid, has helped to put The French on the map, having previously worked at a number of Michelin-starred restaurants.  Simon Radley at The Chester Grosvenor being one of them.   
The menu consists of "modern British" dishes that utilise seasonal ingredients.   We opted for the 6-course tasting menu. The chefs were lovely enough to put on a pescatarian selection of dishes for us (which we booked in advance) as the regular tasting menu was very meat-heavy. 
With its period features and looming chandeliers, The French is a lovely place to dine.  Its intimate dining area is tucked away, making it a bit of a hidden gem.
Malted sourdough with raw butter and hot broth. 
The night started out with some basics done well. 
Oak smoked salmon with turnip. 
This was a really lovely dish.  The salmon and turnip, along with the ample black pepper seasoning and home-made Dijon mustard made for a marvellous balance of flavours.
Pickled mussels, white onion and cider soup with lovage. 
This was one of the standout dishes of the night.  They were probably some of the best mussels I've ever had.  The broth that they were served in was packed with flavour and the mussels were incredibly buttery and tender.  
Barley'ash with confit vegetables and mushroom catsup.  Seabass and hazelnut stew with Doddington cheese. 
The Barley'ash with confit vegetables was a lovely vegetarian dish that reminded me a bit of a deconstructed pasty, which was always going to go down well with a girl from Cornwall.  The seabass was cooked to perfection and had a delicious crispy skin.  
Smoked Cornish cod, mustard mash, truffle and chive.
It always warms the cockles to see Cornish produce on a menu, so of course, I was greatly anticipating the Cornish cod course.  It certainly didn't disappoint and was probably my favourite dish of the night. It was melt in the mouth and was served in a creamy bath of beautiful broth. 
Forced Yorkshire rhubarb with baked English custard.  Stichelton blue cheese with fig and walnut cake. 
Finally, it was time for pudding…and why have one when you can have two?  First up was the classic combination of rhubarb and custard.  A match made in heaven that never goes amiss.  Concealed under the crispy wafer was a generous serving of incredibly rich custard.  Finally, we rounded off the night with tea and the blue cheese and walnut cake course, which was incredibly decadent.  It was the perfect combination of sweet and savoury.  By this time we were about to pop.  
We had a wonderful night at The French – it's a perfect place to go for a special occasion and I am looking forward to returning already.  If you would like to try the pescatarian tasting menu for yourself, be sure to ring ahead and let them know.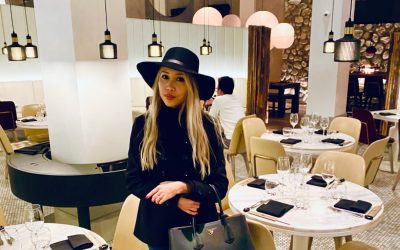 We have discovered lots of new favourites in our attempt to explore more of Manchester's restaurant scene and Peter Street Kitchen is a new addition to the list.  Peter Street Kitchen is somewhere that had slipped under my radar which we happened across when browsing...