Since it opened its doors a couple of years ago, Tattu has become one of Manchester's go-to dining destinations.  Located in the heart of Manchester's business district, Tattu serves up contemporary Chinese cuisine and oriental-inspired cocktails in an award-winning dining space.  Due to its popularity, Tattu has since opened restaurants in Leeds, Birmingham and Edinburgh. 
I have dined at Tattu a few times and what I love most about it is the immersive atmosphere.  The mood lighting and looming magenta cherry-blossom trees make it a dreamy place to be. 
We ordered a selection of small plates to share, including the chilli crusted tofu, wild mushroom spring rolls, vegetarian chicken and black bean and the balsamic teriyaki salmon.  This was my third time dining at Tattu and I have to say that it doesn't disappoint.  The food is remarkably hearty and satisfying as the portion sizes are generous.  It's also great that the menu takes into account an array of special dietary requirements.  
I was particularly curious to try the 'vegetarian chicken' which was delicious and tasted very convincing!  The wild mushroom spring rolls were also a massive hit – I'd definitely order them again.
My photos don't do it much justice so I'd recommend checking it out for yourself.  With the fantastic food and cocktails paired with the stunning surroundings, it's a safe bet that you'll have a fantastic time at Tattu.  Hopefully Tattu will open up in more locations in the future!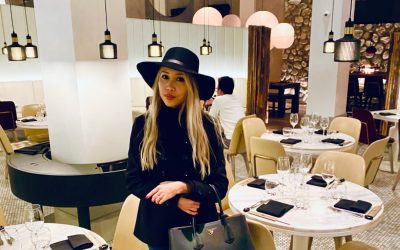 We have discovered lots of new favourites in our attempt to explore more of Manchester's restaurant scene and Peter Street Kitchen is a new addition to the list.  Peter Street Kitchen is somewhere that had slipped under my radar which we happened across when browsing...