For the ultimate drinks venue in Bangkok, look no further than Sirocco Sky Bar.  Described as "the most stunning rooftop bar you'll ever see" by the New York Times, it has some of the best panoramic views of the city.  Aptly named, Sky Bar sits pretty on the 63rd floor of one of Asia's tallest buildings, the Lebua State Tower, an iconic feature on Bangkok's skyline.  
Sky Bar is open-air so you can take the cool breeze along with the views. The live quartet provides beautiful music and the mood is set with coloured lighting that transitions between different hues.   This all works in synergy together to create a truly unique atmosphere.
Sky Bar made an appearance in the 2011 film, The Hangover II, and has since been commonly referred to as the 'Hangover' bar.
Almost as impressive as the views are the cocktails.  The aptly named 'Hangovertini' is Sky Bar's signature cocktail, containing green tea liqueur, Martini Rosso, green apple juice and rosemary-infused honey.  It was formulated by one of Sky Bar's mixologists especially for the cast of the Hangover II.  It even got the seal of approval from the film's director himself, Todd Phillips. 
I opted for the 'Gold Rush' cocktail which contains lychee liqueur, honey, Beefeater gin, European Red Bull and 23-carat gold flakes.  It's a deliciously decadent cocktail fit for its surroundings.
Sky Bar is a world-class venue and is well worth checking out if you visit Bangkok.  From the lovely cocktails to the ambience and stunning views – it's an incredibly special place.  There is also an Asian Restaurant, Breeze, which is well worth visiting if you fancy a bite to eat. 
I was lucky enough to meet the CEO of Lebua Hotels and Resorts, Deepak Ohari, when I was invited to Frankfurt for the launch of Breeze in Europe.  Just like Breeze Bangkok, the Frankfurt restaurant has a menu of theatrical, Pan-Asian dishes that utilise cutting-edge culinary techniques.  Read more about it here.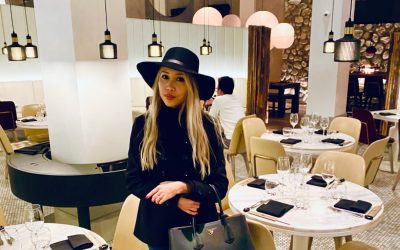 We have discovered lots of new favourites in our attempt to explore more of Manchester's restaurant scene and Peter Street Kitchen is a new addition to the list.  Peter Street Kitchen is somewhere that had slipped under my radar which we happened across when browsing...