Named as London's Bar of the Year, the Polo Bar at the Westbury Hotel in Mayfair is best described as a "shrine to educated drinking".  I had heard great things about it so I couldn't wait to try some of its unapologetically opulent cocktails.
We started off with some of the latest seasonal additions to its cocktail menu – the Mayfair Gold and the Pomegranate Deluxe.   At a glance, it's not hard to see that these gold-infused, gin-based cocktails are a cut above. 
Cocktail – Mayfair Gold.  A refined and elegant cocktail containing Tanqueray gin, shaken with fresh lychees and elderflower, finished with a splash of Moët  Brut Rosé NV.  A true show-stopping cocktail and my personal favourite.
Cocktail – Pomegranate Deluxe.  A well-balanced cocktail containing Bombay Sapphire gin, shaken with elderflower, lemon and freshly squeezed pomegranate juice, topped up with Moët Brut NV.
Next, we tried some of the more zesty cocktails on the Spring cocktail menu: Lemon Tree and Divine.
Cocktail – Lemon Tree.  A zesty and refined cocktail containing Limoncello, shaken with vanilla vodka, Absinthe, lemon and homemade vanilla syrup.  A delightfully refreshing tipple.
Cocktail – Divine.  This show-stopping cocktail was infused with saffron, a spice that's noted for being worth more per ounce than gold.  It also contained Beluga vodka shaken with passion fruit, lime and Galliano. 
We also ordered a few bits off the bar bites menu which features sushi, sashimi, caviar and much more.
We finished up with tea.  As an Earl Grey addict, I'm definitely going to have to find out where they source their tea from because it was one of the nicest blends that I've had in a long time.
From the cocktails to the bar bites, everything we had at the Polo Bar was exceptional, as was the seamless service.  I can certainly see why it was awarded its Bar of the Year accolade.  If you love fantastic cocktails then look no further – you won't be disappointed.  I can't wait to return!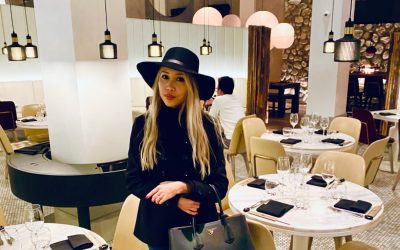 We have discovered lots of new favourites in our attempt to explore more of Manchester's restaurant scene and Peter Street Kitchen is a new addition to the list.  Peter Street Kitchen is somewhere that had slipped under my radar which we happened across when browsing...