New Street Grill is hidden away just off Liverpool Street in a historic 18th-century warehouse,  once used by the East India Company.  Its menu features hearty dishes, including Josper-grilled steaks and superior cuts of meat and fish, alongside seasonal British produce.  All accompanied by an extensive wine list of over 500 references.
The New Street Grill's dimly-lit dining area is a perfect place to unwind.  My sister and I both had a long day, so we were both ravenous and ready to relax into an enjoyable evening.  We knew straight away that we were in the right place for just that.
Starters: Lobster cocktail, crisp lettuce, Marie Rose sauce. Steak tartare.
The sommelier was super attentive and on hand to recommend wine pairings for each course – all of which were exceptional.
Mains: Wild halibut with 'Bourguignon' lardons, shallots and red wine, accompanied by potato puree.  Caramelised duck breast, Puy lentils, celeriac, and red wine jus. 
The halibut was cooked to perfection.  It had crisp skin and was paired with moreish creamy mash and deliciously rich Bourguignon lardons that packed a flavourful punch.  The tender duck breast, cooked medium rare to order, was served on a creamy bed of celeriac and lentils, finished with a stunning rich red wine jus.  A true winter warmer.
Dessert: Valrhona dark chocolate fondant and vanilla ice cream.  Sweet wine pairing : Domaine Du Trapadis 2009. 

In celebration of National Chocolate Week, we opted for the devilishly moreish chocolate fondant.  It is made fresh to order, so it oozes with rich molten chocolate when you break into it with your spoon.  It's a little piece of sheer indulgence.  It was beautifully paired with a vintage sweet wine, chosen by the sommelier – a match made in heaven.  The good news is that the Valrhona dark chocolate fondant is on the fixed menu so you can enjoy it for yourself any time.  This dessert alone makes New Street Grill well worth a visit.
Before we knew it, more indulgent chocolatey things were brought out for us.  This time it was some perfectly chewy chocolate brownies.
After our wonderfully satisfying meal and chocolate fix at New Street Grill, we retired to the 
Old Bengal Bar,
 just next door, for a tipple or two.  It's the perfect place to unwind with its cool atmosphere and happening vibe.  The decor features exposed brick walls, scarlet leather couches and dim lighting.  It's the perfect environment to enjoy good cocktails and chat with good friends.
Cocktails: Homemade Lemonade and Coffee and Cigarettes.
The Old Bengal Bar's extensive 
cocktail list
 has some fun and experimental cocktails.  I went for the 
Coffee & Cigarettes
 cocktail (mainly because I was fascinated by the name) which contains Zacapa 23 yr, Perique tobacco liqueur, coffee bitters, white candy.  It's a 
very 
strong, grown-up tasting cocktail.  My older, better-behaved sister went for
 Homemade Lemonade
, a mocktail containing a mix of fresh fruits chosen by the bartender, balanced with sweet and sour flavours, topped with soda.  A refreshing alcohol-free cocktail.  I may have had a bit of cocktail envy!
From the stylish decor to the attentive and welcoming staff, New Street Grill is a place that will have you feeling relaxed and ready for a good night from the moment you walk in.  It's the perfect post-work hangout where you can refuel on delicious and satisfying food before enjoying great cocktails, at the Old Bengal Bar.  I had such a lovely night and I can't wait to return.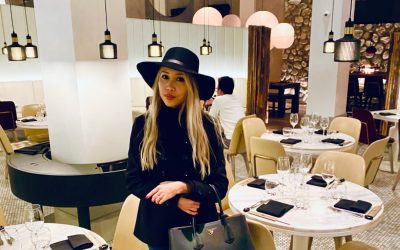 We have discovered lots of new favourites in our attempt to explore more of Manchester's restaurant scene and Peter Street Kitchen is a new addition to the list.  Peter Street Kitchen is somewhere that had slipped under my radar which we happened across when browsing...