In celebration of the 550th anniversary of the first-ever known batch of whiskey, Chivas Regal is hosting a pop-up Gentleman's Lounge at the Park Tower Hotel in Knightsbridge.  The Gentleman's Lounge will be offering exclusive experiences associated with British gentlemen, including whiskey blending, shoe shining, cigars and an exclusive cocktail and dinner menu.
We headed down to the Hyde Bar for an evening of whiskey-fuelled fun and an insight into what the Gentleman's lounge has in store for the next few weeks.  The evening began with a whiskey masterclass hosted drink aficionado, Liam Scandrett, from The Drinkologists.
Liam explained the subtle differences between the Chivas Regal 12, 18 and 25-year-old scotch whiskeys and shared details about what the ageing process entails.  The Hyde bar will be running whiskey blending courses as part of the pop-up.
Chivas 12-year-old profile
'Radiant warm amber in colour.  Aromatic fragrance of an infusion of wild herbs, heather, honey and orchard fruits.  A round, creamy flavour with a full, rich taste of honey, ripe apples, vanilla, butterscotch and hazelnut, with a rich, lingering finish'.
Chivas 18-year-old profile
'Intense, dark amber colour. Multi-layered aromas of dried fruits spice and butter toffee.  Exceptionally rich and velvety smooth flavour, with dark chocolate, elegant floral notes and a hint of sweet mellow smokiness.  Magnificently long and warm finish'.
Chivas 25-year-old profile
'Deep golden copper in colour.  Enchanting aromas of sweet orange and peach, followed by notes of marzipan and nuts.  Flavours of rich milk chocolate orange and fondant creaminess.  Smooth, rounded and luxuriously long finish'.
Although I've never been a big whiskey fan, I was incredibly impressed at how palatable and complex the flavours of the Chivas Regal whiskeys were.  Even neat, the whiskeys are remarkably smooth and drinkable.  They are really something to savour in order to appreciate the intricate flavours.
The Chivas  Regal 12-year-old whiskey was rich and velvety – it had a prominent apple flavour running through it as a result of the wood selected for the barrels that it ages in.  However, the Chivas Regal 25-year-old whiskey stole the show.  It was delightful – something I never thought I would say about a whiskey.  At a cool £250 a bottle, it's a pretty special drink, not to mention the fact that it's older than I am!
The mixologists had created three Chivas Regal whiskey cocktails including a Chivas Sour, Passion Sour and Grape sour.  I tried them all (for research purposes of course) and they were divine.  I particularly loved the Passion Sour which was perfect if you enjoy a fruity cocktail like moi.
Luckily, ladies are also welcomed to the Gentleman's Lounge…top hats are optional!
An exclusive menu has been created for the Chivas Regal Gentleman's Lounge by Executive Chef Pascal Proyart.  The menu will be served daily from 12pm and features hearty, classic dishes that utilise the Chivas scotch whiskies.
There will also be a pop-up shoeshine service on the 2nd, 9th and 16th of June by London Shoeshine, the city's oldest shoeshine company.  Allow me to introduce Jock Kennedy – this guy makes the shoeshine experience with his banter alone.  If you've never had your shoes shined before then I recommend giving it a try, if just for the experience.  I love that this age-old custom is being kept well and truly alive.
As if we hadn't already covered all the traditional gentleman's stereotypes, there will also be Cigars by Havana Cigar Exchange available in The Hyde Bar's humidor.  The Hyde Bar features its own cigar terrace making it a great place to go for those who enjoy a good cigar.
I had a truly fantastic night – it's well worth experiencing this pop-up for yourself while it's here!  The Chivas Regal Gentleman's Lounge will be at the Hyde Bar at the Park Tower until June 21st.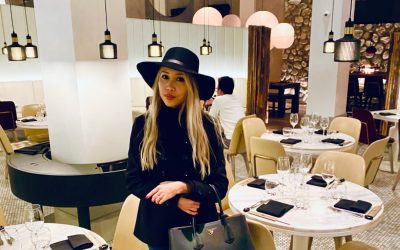 We have discovered lots of new favourites in our attempt to explore more of Manchester's restaurant scene and Peter Street Kitchen is a new addition to the list.  Peter Street Kitchen is somewhere that had slipped under my radar which we happened across when browsing...